Capacity Development
The Capacity Development Department represents the "Mental" portion of the Medicine Wheel. This Department is responsible for overseeing the education, training, and employment of C/TFN Citizens and staff.
C/TFN operates a licensed daycare, the Haa Yátx'i Hidí Early Childhood Development Centre, overseen by the Capacity Department. The Haa Yátx'i Hidí has 25 child care spaces and 7 staff.
The Capacity Development Department also supports the needs of C/TFN students from Kindergarten to Grade 12. This includes kids attending Ghùch Tlâ community School in Carcross, as well as students who move on to high school in Whitehorse.
After high school, the C/TFN Capacity Development Department provides support, financial and otherwise, for post-secondary and training needs of C/TFN Citizens and community Members. This can include university or college training as well as certification needs for employment, such as First Aid, WHMIS, chainsaw safety, etc.
Post Secondary Application Deadlines:
Fall Deadline (For programs starting between September-December): JUNE 1st
Winter Deadline (For programs starting between January-April): NOVEMBER 15th
Summer Deadline (For programs starting between May-August): MARCH 15th
Mission
To support individuals in their pursuit of lifelong learning by providing education, training and employment opportunities and creating pathways to develop, realize and express their spiritual, emotional, physical and mental capacities.
Vision
A Nation where the spiritual, emotional, physical and mental capacity of every Citizen is developed to its fullest potential through lifelong learning.
Priorities
Publications
Policies
K-12 Programs and Services
Post-Secondary and Community Training Programs and Services
External Funding Sources
Peacemaking Circle Training
Peacemaking Circles Training Program
Our Families, Our Way, Bringing us home
* The Peacemaking Circle Training is offering another round of the Foundations Training (Course#1) this Winter. The Application deadline is January 3rd 2020. See schedule for orientation session, session dates and graduation day.
Course #1 Foundations: (18 days)
This Foundations Course is the first of 3 Core Courses that will be offered in the Program. The objective of this introductory Course is to provide foundational knowledge and competencies related to conflict resolution and peacemaking. More specifically, the Foundations Course aims to cover:
1st Session - Traditional Values covering virtues, values and practices, and how they provide a foundation for peacemaking.
2nd Session - Communications key concepts behind just, non-violent and non-oppressive forms of communication.
3rd Session – Intergenerational Trauma how trauma impacts human beings physically, mentally, emotionally and spiritually, and how trauma can be transformed.
4th Session Circle Foundations how all of the above applies in preparing for, holding and following up on a peacemaking circle process. The core principles, concepts and practices of an effective peacemaking circle process.
Beyond these areas of knowledge and competency, the Foundations Course aims to provide participants with an experience of connection and community that is transformational for them in a way that they need it to be. Positive change in our families, clans and communities will be based on healthy, loving and resilient relationships that support effective collaboration.
Further Courses in the Program being developed
Course #2 – Advanced Circle Keeper Skills (20 participants)
This second Course extends deeper into the purpose and practice of peacemaking. It will provide knowledge, skills and practice in organizing, preparing, facilitating and following up on peacemaking circles. It will also examine other types of circles. Graduates will have the core skills to begin conducting circles within family, school, work and community settings.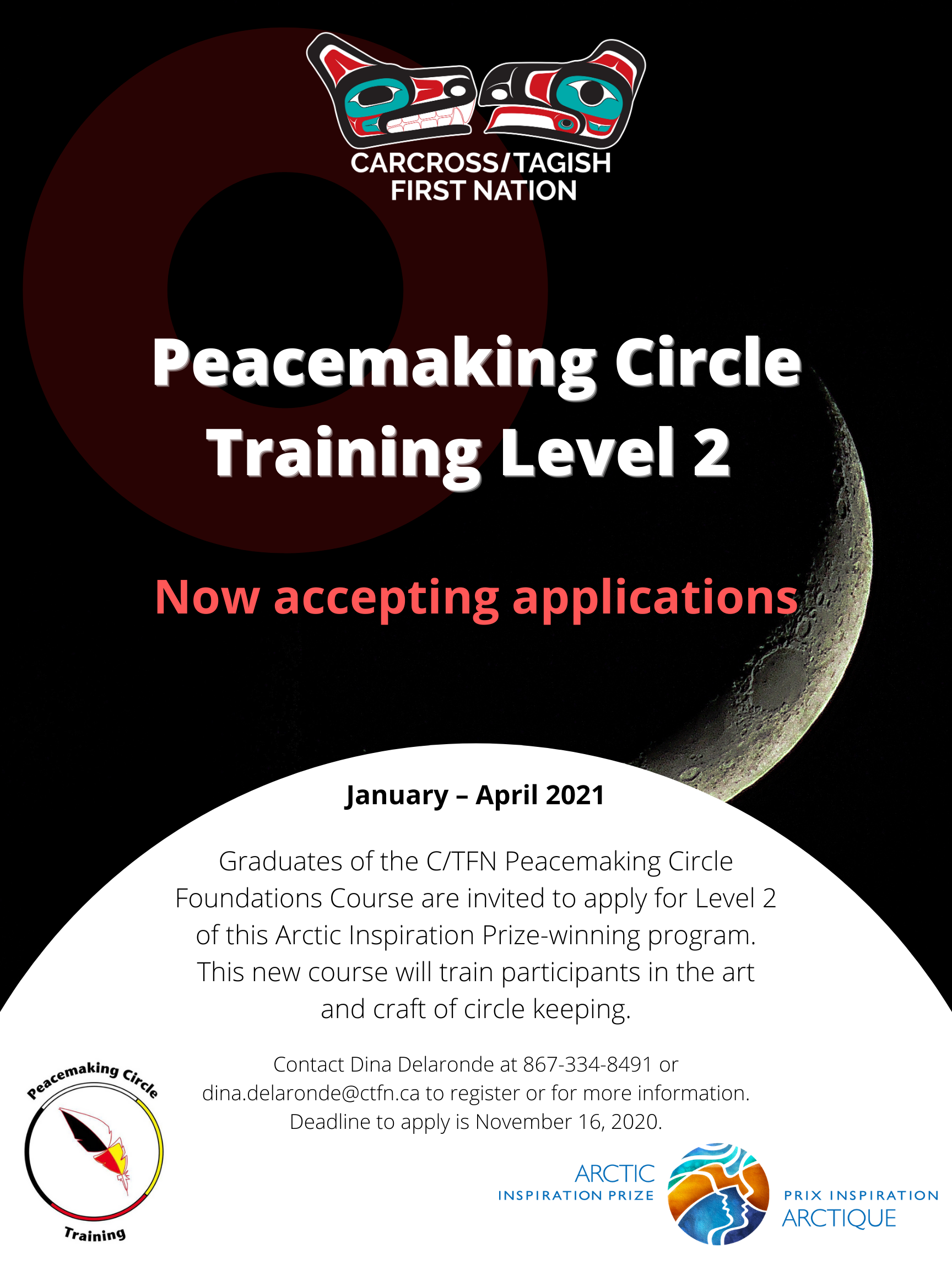 Course #3 – Specialized Circle Keeper Skills - Children & Families (15 participants)
This third Course extends further into circle keeping competencies required in sensitive child and family matters. This will be a specialized course given the unique dimensions of working in situations where children and families may be at risk, and where the child welfare system may become involved. The primary focus is refining skills and applying them to this specific context.