General Council
The General Council is the main governing body of Carcross/Tagish First Nation. The General Council is made up of 18 Members. Each clan appoints three representatives and one of the three must be an Elder. Appointments are for four year terms.
The next general council will be October 5th & 6th 2019 at the Learning Centre from 9am to 4pm. You can view the agenda here and contact the reception (reception@ctfn.ca) for the package.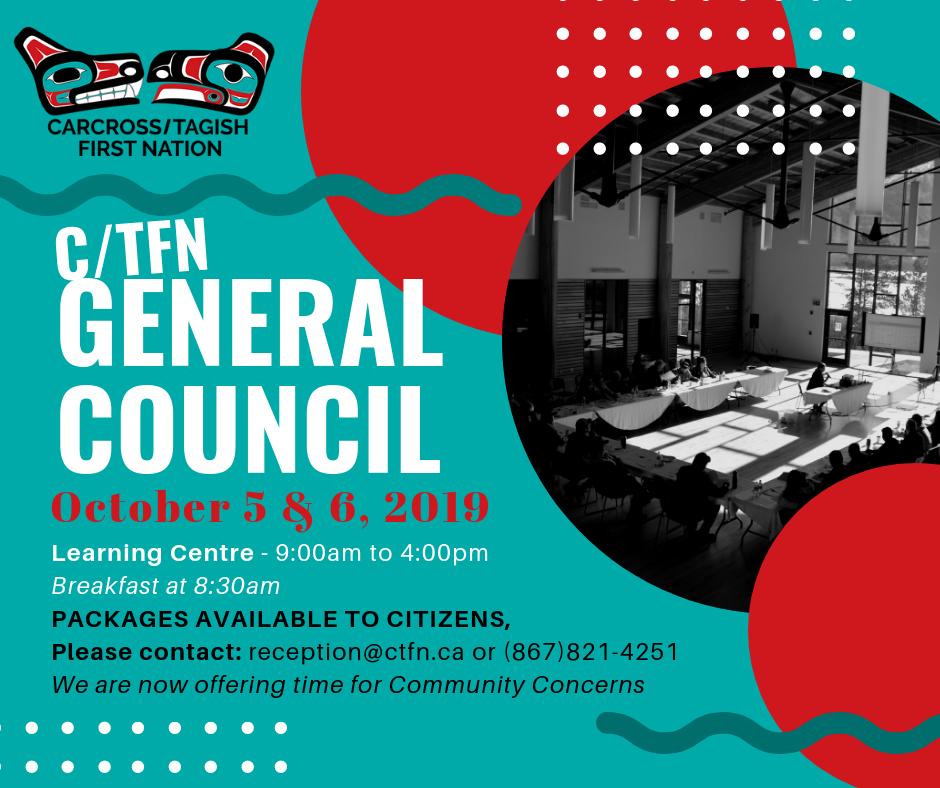 Mandate
The General Council directs the development and implementation of laws and regulations. General Council reviews and approves the annual budget put forward by the Executive Council. General Council provides a forum for Citizens to voice their concerns and opinions, and make decisions about C/TFN laws and procedures. The General Council reviews and approves reports presented by the Executive Council on programs and services offered by C/TFN. General Council also decides what the mandate of the Executive Council will be each year. Decisions at the General Council are made by consensus, but if consensus cannot be reached, resolutions and laws are passed with a vote of seventy-five percent or more.
Members
Yan Yeidi:
Robin Lovelace Smith (Alternate: TBD)
Gladys Moran (Alternate: TBD)
Buster Shepherd (Alternate: TBD)
Daklaweidi
Colleen James (Alternate: Beverly Sembsmoen)
Patrick James (Alternate: Darla Lindstrom)
Sheena Johns (Alternate: Gary Johnson)
Kookhittaan
Rose Sellars (Alternate: TBD)
Susan James (Alternate:TBD)
Corey Thompson (Alternate: Deborah Baerg)
Deisheetaan
David Duquette (Alternate: Dawn Duquette)
Joyce Hall (Alternate: Karen Hall)
Maxine Benoit (Alternate: Georgianna Low)
Ishkaahittan
Edna Helm (Alternate: Mierl Richard)
Ernest Richard (Alternate: Roberta Hawryluk)
Leona Shepherd (Alternate: Jean Desmarais)
Gaanaxtedi
Rob Jensen (Alternate: Zena McLean)
Anne McKay (Alternate: Sue Shinkel)
Alfred Smith (Alternate: Rose Jajcaj)