Fairness Coordinator
Similar to an Ombudsperson, the Fairness Coordinator is an advocate for fairness, who can assist Citizens, Employees and concerned community members with their complaints about the C/TFN Government. The Fairness Coordinator does not replace any C/TFN decision maker, council, service delivery or appeal process, but can work with individuals if they believe they have not been treated fairly after raising a complaint.
If you have a complaint but are unsure of what to do, the following flow chart shows you what the proper steps to take are.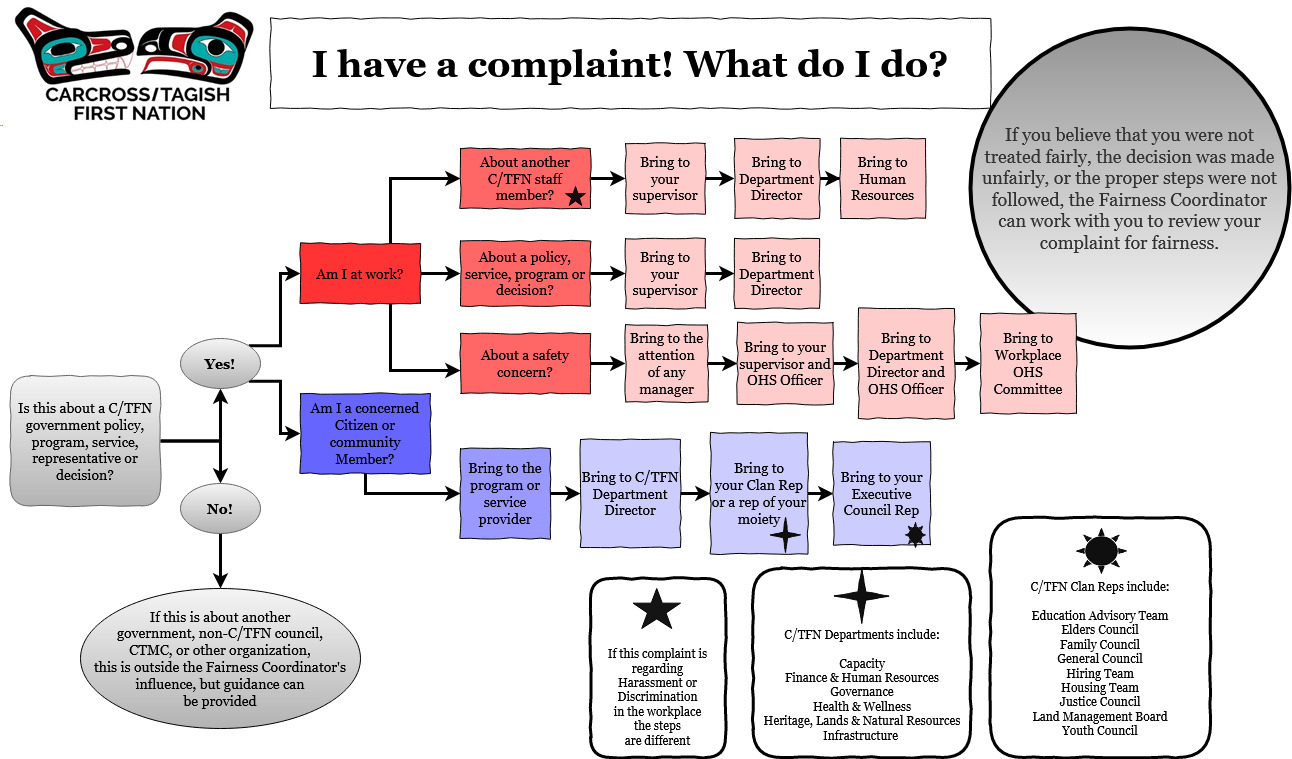 Administrative Fairness
Administrative fairness is the standard of conduct people can expect from their government. It is the expectation that public bodies will act reasonably when delivering their programs and services, and in a manner that is consistent with the relevant policy, procedures and legislation. It also means they must follow fair and transparent decision making processes, and explain reasons for decisions to the people affected.
The Fairness Process and Fairness Coordinator's office was set up to address issues of Administrative Fairness within the C/TFN government.

The Fairness Process
On August 1, 2019, the C/TFN Executive Council passed the Fairness Policy. This Policy provides direction to the Fairness Coordinator, establishes the independence of the office and describes how complaints or statements of concern will be handled.
Investigations are Confidential
The Fairness Policy requires that Fairness Coordinator investigations be conducted in private. At the conclusion of an investigation, both the department or committee and the complainant will be notified of the outcome and reasons why the recommended resolution was made.
Investigation Outcomes
The Fairness Coordinator investigates matters raised in a complaint to determine if there is an administrative fairness issue to be addressed. If they determine there is no issue to be addressed, they will explain why they are ending their investigation and what your options are. If there is an issue to be addressed, they will raise it and consult with you on how it can be resolved. Common resolutions to individual investigations include:
A better explanation or reasons for decision
Changes to policy, procedure or sometimes legislation
A new hearing or reconsideration of a decision
Appropriate conflict resolution process, which could include: facilitation, mediation, independent investigation, or Peacemaking circle

What kinds of complaints can the Fairness Coordinator support you with?
| | |
| --- | --- |
| C/TFN Government Administration Concerns | Yes |
| C/TFN Boards, Committees, or Councils Concerns | Yes |
| Community or Clan Concerns | No |
| Carcross / Tagish Management Corporation Concerns | No |
| Human Rights Complaints | No |
| Child & Youth Advocate Complaints | No |
Complaint Requirements
As determined in the Fairness Policy, complaints must meet the following requirements to be considered by the Fairness Coordinator:
The complaint cannot be older than one year;
The complaint cannot be made on behalf of another person;
There are no other laws or existing administrative procedures to remedy the complaint, or reasonable justification is provided why the complainant has not used those procedures;
The complaint is frivolous, vexatious, not made in good faith, or concerns a trivial matter;
Initiating the Fairness Process must provide benefit to the complainant. 

How to Complain Effectively
Do you feel like you have lots of feedback to give, but often people don't listen? The following guide can help you craft your complaint in a style that will get you the most effective outcome for your concern.
Contact the Fairness Coordinator
Note: Due to Covid-19 precautionary measures, the Fairness Coordinator has suspended drop-in meetings. Your complaint is important. Please contact 867-332-5988 or fairness@ctfn.ca to speak to the Fairness Coordinator about your complaint and set up a meeting.
All meetings and investigations undertaken by the Fairness Coordinator are confidential.
You are welcome to complete an Intake Form and use it to guide your conversation with the Fairness Coordinator.
Fairness Coordinator Office Intake Form
Alyson Miller – Fairness Coordinator
867-821-4251 x 8210 or 867-332-5988

fairness@ctfn.ca